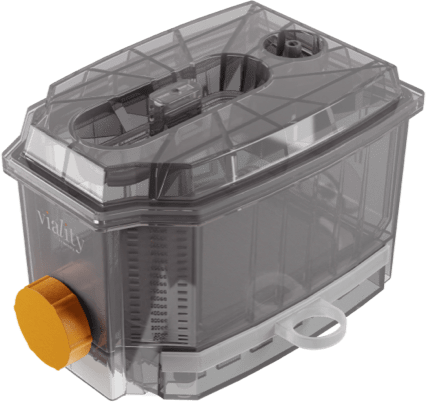 Easy. Versatile. Effective.
Welcometo the Viality™Early Experience Program!
We're excited to introduce you to our innovative new fat transfer product, Viality™. Developed by researchers at Harvard and Massachusetts General Hospital, Viality is the only fat transfer system with AuraClens™, a proprietary cleansing mechanism (lipoaspirate wash) to retain more-viable fat leading to more predictable results. Viality is also the only fat transfer system able to process 50-1,050 mL of lipoaspirate.
As part of the Viality Early Experience Program, you will have the opportunity to:
be one of the first surgeons to use the Viality system outside of a clinical study environment to provide your patients differentiated, long-lasting results.

be part of an early group of Viality users to provide user experience feedback to guide future product and program innovation. We value your feedback as one of our board-certified plastic surgeon partners.
Program Terms for Reconstruction Surgeons:
Use Viality in 5 breast reconstruction procedures. Complete 5 brief post-usage surveys via our Viality Early Experience Program registry.

Upon completion of the 5th survey, the customer is eligible for a certificate of completion and Sientra's Surgeon Locator Viality badge, noting participation in the Early Experience Program (for Reconstruction). (available starting 7/1/2023)

Customer intends to complete all 5 post-usage surveys by June 30, 2023.

Sales of Viality and participation in the Viality program are reserved for board-certified plastic surgeons only.