YOUR HIGH STANDARDS ARE OUR HIGH STANDARDS
Sientra offers leading transformative treatments and technologies focused on progressing the art of plastic surgery and making a difference in patients' lives. With unrivaled safety, state-of-the-art science and exceptional service, our portfolio of proprietary innovations radically advances how plastic surgeons care for their patients.
Our philosophy is simple: We place superior products in the most skilled and qualified hands to provide you with safer, more beautiful results.
– Ron Menezes
Sientra President and Chief Executive Officer
*Among silicone gel breast implants; 99% "Worth It" rating as of February, 2022 on realself.com
** Data on file.
Proudly Manufactured in

the United States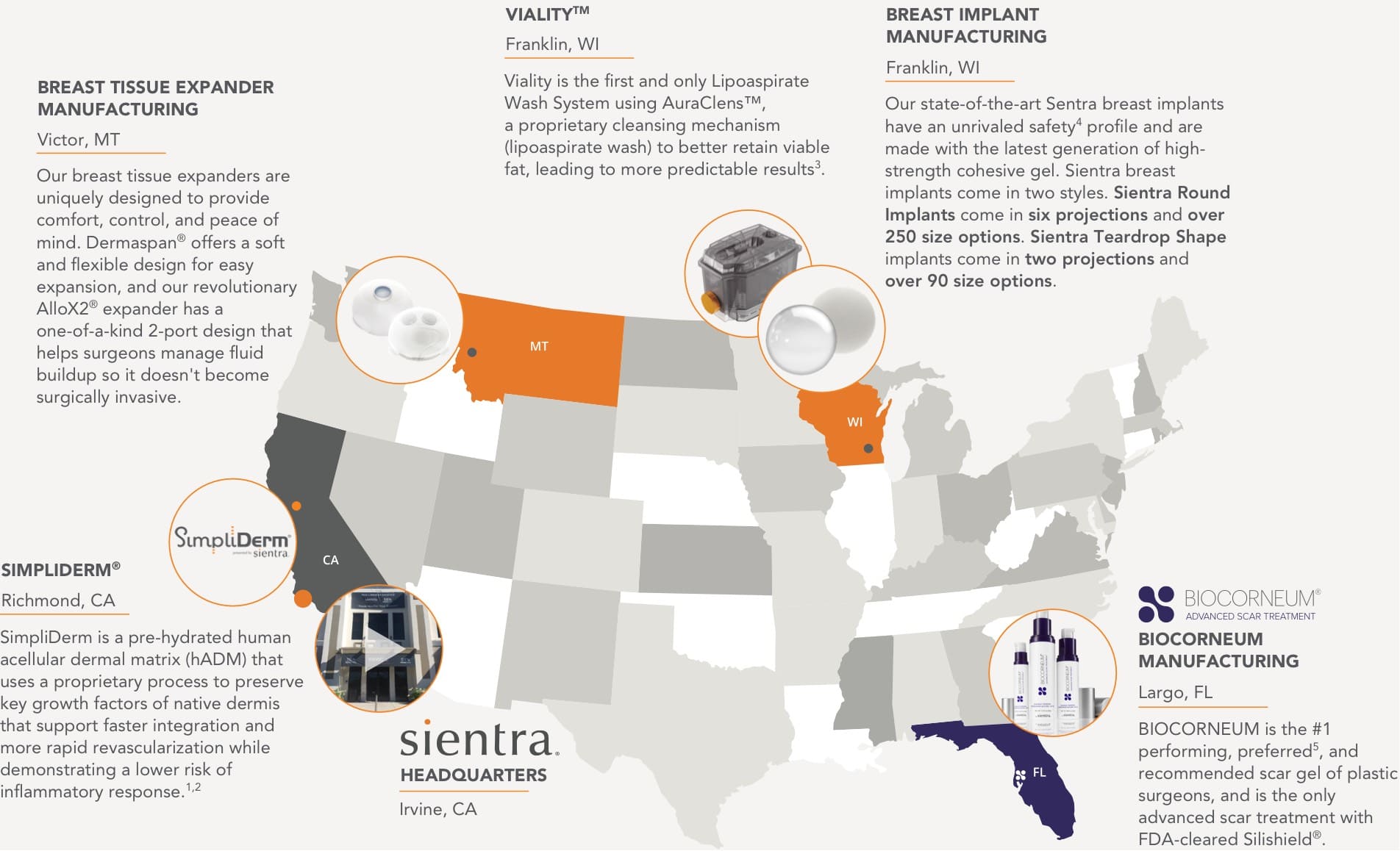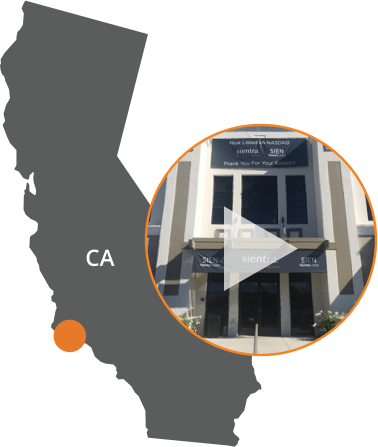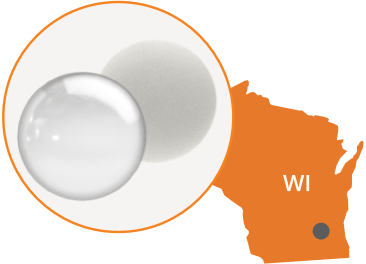 Breast Implant
Manufacturing
Franklin, WI
Our state-of-the-art Sentra breast implants have an unrivaled safety4 profile and are made with the latest generation of high-strength cohesive gel. Sientra breast implants come in two styles. Sientra Round Implants come in six projections and over 250 size options. Sientra Teardrop Shape implants come in two projections and over 90 size options.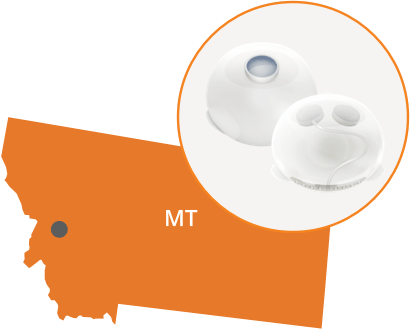 Breast Tissue Expander
Manufacturing
Victor, MT
Our breast tissue expanders are uniquely designed to provide comfort, control, and peace of mind. Dermaspan® offers a soft and flexible design for easy expansion, and our revolutionary AlloX2® expander has a one-of-a-kind 2-port design that helps surgeons manage fluid buildup so it doesn't become surgically invasive.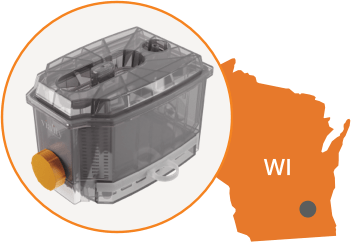 Viality™
Fat Transfer
Franklin, WI
Viality is the first and only Lipoaspirate Wash System using AuraClens™, a proprietary cleansing mechanism (lipoaspirate wash) to better retain viable fat, leading to more predictable results3.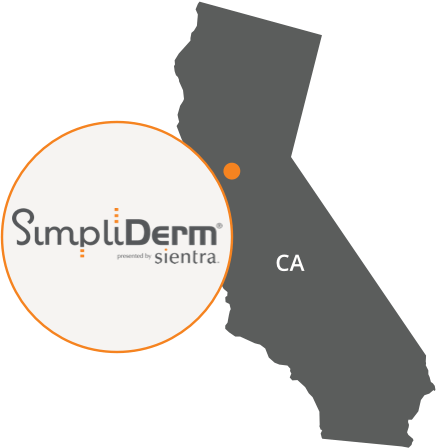 SimpliDerm®
Richmond, CA
SimpliDerm is a pre-hydrated human acellular dermal matrix (hADM) that uses a proprietary process to preserve key growth factors of native dermis that support faster integration and more rapid revascularization while demonstrating a lower risk of inflammatory response.1,2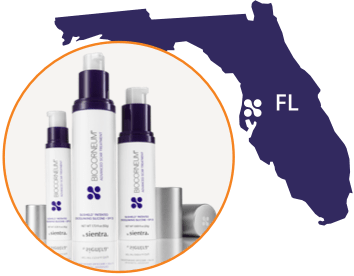 Biocorneum
Manufacturing
Largo, FL
BIOCORNEUM is the #1 performing, preferred5, and recommended scar gel of plastic surgeons, and is the only advanced scar treatment with FDA-cleared Silishield®.
Dedicated to Creating an Exceptional Product with Unrivaled Safety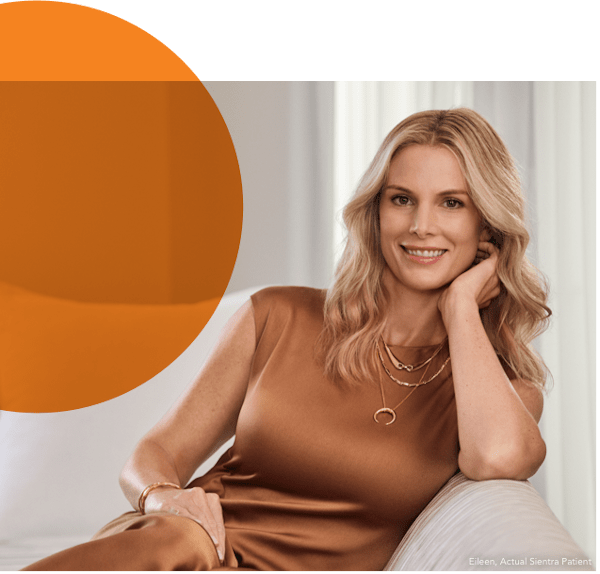 Our Commitment

Goes Beyond Products and Services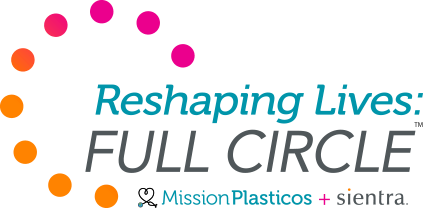 Reshaping Lives: Full Circle is a partnership between Sientra and Mission Plasticos, a 501-c3 non-profit organization dedicated to providing no-cost reconstructive surgical care to people in the U.S. living in poverty.
This program will focus solely on breast reconstructive surgery for post-mastectomy women living in poverty as part of Reshaping Lives America, the first large-scale nationwide program providing no-cost reconstructive care to women in the U.S. living in poverty, funded through a 1M dollar donation from Sientra.
Visit https://reshapinglivesfullcircle.org to learn more and get involved.
We Help Build

Relationships and Careers
We are seeking exceptionally talented and motivated people to join our team. If you are looking for a career that is both challenging and rewarding, and to work for a company at the forefront of the aesthetic industry, please click here to see our open opportunities.