Sientra Luxe Patient

Rebate Special Offer

Receive a $250 MasterCard® gift card when you have a breast augmentation surgery with Sientra implants between June 1, 2023 and August 30, 2023.*
See Proven Clinical Results
Our silicone breast implants are clinically shown to have low complication rates through a robust 10-year clinical study and are designed to perform better.2,3
See the Most Comprehensive and Longest Breast Implant Warranty
It's more than just a 20-year warranty, it's our commitment to your health and safety.
See a Board-Certified Plastic Surgeon
Only our high-strength cohesive silicone gel implants are available exclusively from the most skilled surgeons so you can feel confident in the most qualified hands.

The highest rated breast implant brand in the U.S.*
*Among silicone gel breast implants; As of February, 2022, realself.com
See Confidence In

Patient Satisfaction Rates3
Felt Their Breasts Look Natural and Soft
Felt Their Clothes Fit Better
(primary augmentation cohort)
One-Size-Does-Not-Fit-All

Implants
When it comes to patient safety, not all implants are created equal. Sientra implants are clinically shown to have low complication rates.3
1,116 patients enrolled | evaluated for 10 years
1,116 patients enrolled
evaluated for 10 years
Capsular Contracture
A tightening/hardening of the scar tissue around the implant
Implant Rupture
A hole or tear in the shell of the implant
Reoperation
Any additional surgery performed to the breast after the first breast implantation
*(primary augmentation cohort)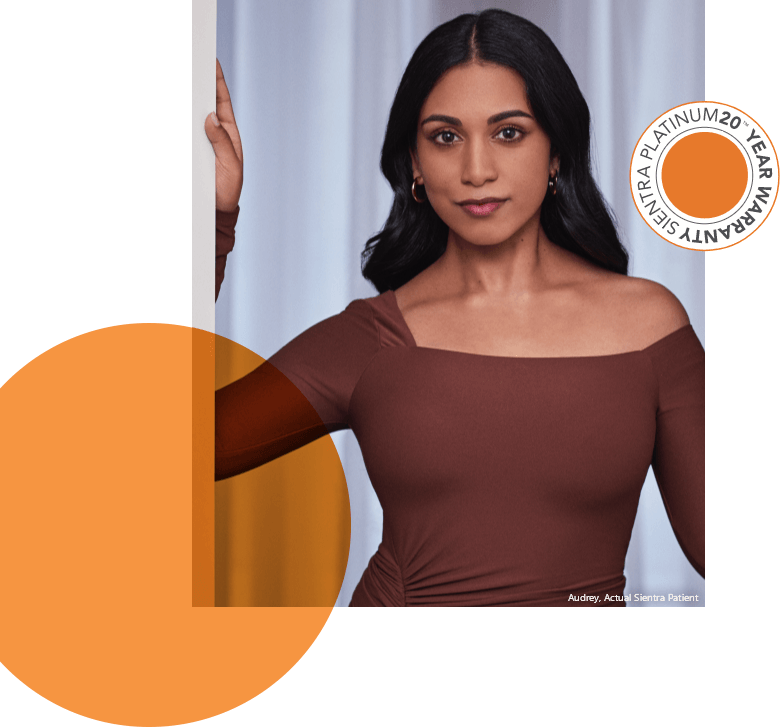 See the Industry's Most

Comprehensive
20-Year Warranty
Because we believe in the safety and performance of our implants, we can offer the industry's best warranty. Our Sientra Platinum20™ Product Replacement and Limited Warranty Program provides the most comprehensive protection, longest length of coverage, most financial assistance, and least amount of warranty restrictions amongst all implant brands.
For complete details about the terms and conditions of the Sientra Platinum20 program and Sientra breast implants visit resources.